Another fantastic swim in Western Australia has been and gone. This year's Rottnest swim will be remembered for the fast swim results and a visiting shark.
Indeed, 2018 clocked record breaking swim times for the solo male and team categories. Solomon Wright set a new course record by being the first person to break the 4 hour barrier in a stunning time of 3hours:59 min. Team Tommy Bay broke the male team record from 2004 by more than 6 minutes. Olympic swimmer Heidi Gan was the fastest solo female finishing in a time of 4hours:21min.
From professional swimmers' result to the results of happy swimmers.
This year didn't just see great results for professional swimmers but also those competing for fun. This included some Vladswimmers who have taken part previously but whose swim times reflected the challenging conditions they faced. 2018 was different with everyone achieving fantastic swim times. But what made them so quick (other than all the hard work and training they put in to prepare for the race)?
Well, the strong Easterly wind and a 2m swell helped push the swimmers on their journey to Island. This was good news for the swimmers, although it made conditions challenging for their paddlers and support crew who struggled with the cold and controlling the kayaks. Regardless, everyone crossing the line – swimmers and paddlers alike – were delighted with their efforts.
Unfortunately, the king of the ocean stopped some swimmers from finishing their race. Yes, around 200 swimmers were pulled out of the water by officials for safety reasons after numerous reports of a great white shark passing through the channel. Whilst the swimmers safety was the underlying reason for this decision, management of the evacuation has had a mixed reaction from understandably disappointed swimmers, which is being reviewed by the race organizers.
Vladswim swimmers
Vladswim was represented by 28 solo and 6 Relay swimmers this year. Unfortunately, Eric, Belinda and John were pulled out of the water because of the shark but they have already determined they will return next year to complete their swims.
Emily Miers, a previous Vladswimmer now coached by Robert Fernandez in the DRLC pool, and Justin Hanby both finished under the 5-hour mark in personal PBs. 7 squad members finished under 6 hours and a further 14 came in under 7 hours. Eli set a new butterfly course record by successfully crossing in 7hours and 20min.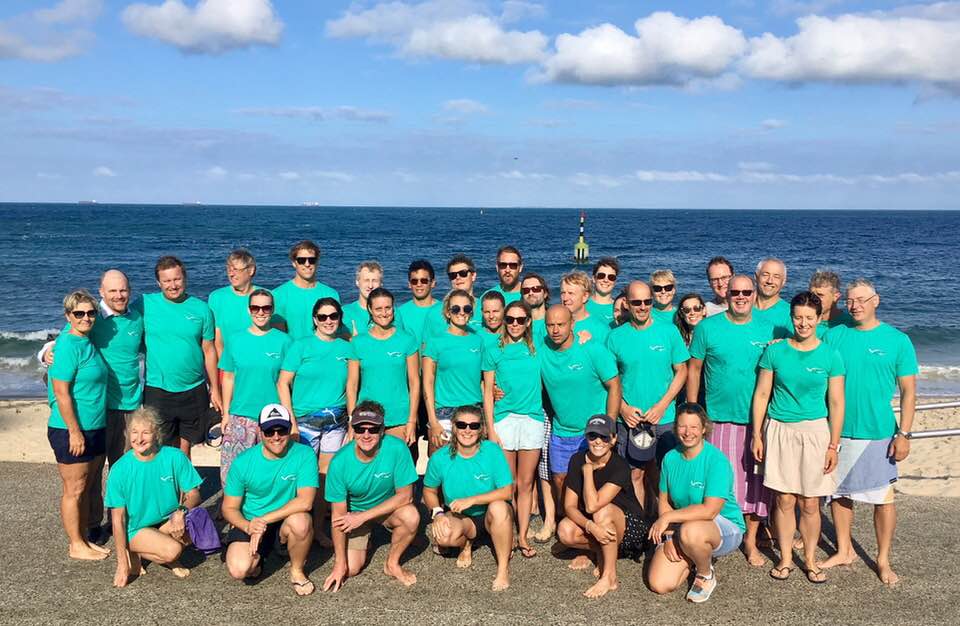 There are plenty of personal achievements to highlight: Paul, who used to be pool sprinter, finished in 6hrs 25mins; Gilly, who only joined Vladswim 2 months before Rotto completed in 6hrs 33mins; Laura, who followed an online training program finished in 6 hrs 11mins, Tall Paul and Anna both finished in 5 hours 21 mins for PBs, Katya and Peter completed their crossings in 6:14min,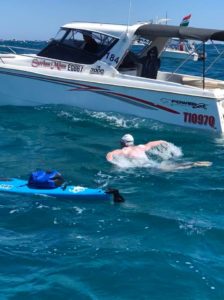 Duo team Jai and Elizabeth finished in 6:59 min and fasters boys Vladswim team Kylee, Jason, Ben and Jeremy in time 4:38 finished 11th overall and 4th in category 100-mix.
Congratulation to all swimmers. A few swimmers have already asked me what they should do after Rottnest. After over 8 years of coaching swimmers for Rottnest, here's my advice:
1. Be content that you have achieved a 20km swim and in the short term take some time to relax and enjoy open water swims without the pressure of preparing for another big swim for a while. Your swimming fitness after Rottnest will be great for any shorter open water swim from 2km to 5km. Use this advantage and enter some shorter swim races.
2. If you loved the Rottnest swim and know you want to take on the next level of endurance swimming, then consider a longer distance challenge This could be one of the "Triple Crown" swims – the English Channel, Catalina Sounds or Manhattan Island.
3. If you enjoyed the swim but feel that you've "been there and done that", then consider a different style of challenge that uses your fitness, such a triathlon, ironman or surf lifesaving competition.
4. You don't know whether you want to do another long distance challenge. Don't rush a decision – if you're motivated to come to squad, then keep swimming and talk to your swim buddies about other swims that they've done to see if they appeal to you.
5. You loved the Rottnest swim but don't need to do a longer distance than that. Then enjoy a bit of a break, consider doing some shorter distance swims, such as the Bondi-Watson's bay 10km swim to retain your fitness, and think about doing Rottnest again next year.
Whichever category you fit into, now is the time to give your body a break from long-distance training and but take advantage of your fitness and enter some shorter swims or just enjoy open water training.
This year, there are plenty of 5km, 10km and 15km swim in Australia and around the world that could tempt you.
Thank you to all swimmers for such great result and if you need any help with a program or deciding your next goal then just let me know.
~Vlad