This year's Rottnest swim again surprised participants with unpredictable surf conditions and a strong current. Two days before the event, the swimmers were relaxed and happy with a weather forecast of light winds, a high air temperature of around 40°C and a small swell – perfect conditions for an enjoyable and safe 20km open water swim between the main land and Rottnest island.
And with a light wind and small swell greeting them, so the swimmers kept this hope of great conditions in their nervous hearts as they gathered on the beach early Saturday morning. And so, it was for the first 10km as they warmed up with support crew paddling next to them and the boat leading the way. However, around the 10km mark for the first swimmers who had left at 6am, a strong southerly current started to cause big problems.
This current was so strong it pulled both boats and swimmers towards the north. Some competitors were stuck in 1 spot because the current was so strong they couldn't move against it. No-one had predicted the change in conditions, and those who were slower to spot the change were pulled quite far off course.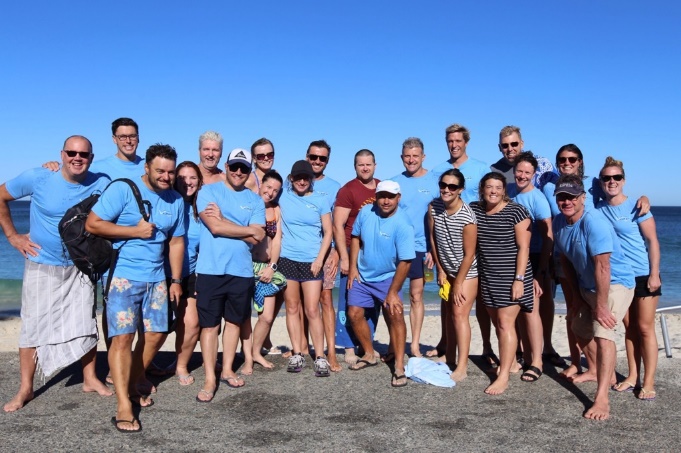 Therefore, the results of the swim were unusual: from 322 solo swimmers, 56 swimmers didn't complete it, 14 swimmers took over 10 hours, 44 swimmers took over 9 hours, 29 swimmers took over 8 hours and 52 swimmers took over 7 hours.
Whilst everyone at Vlaswim felt the strong current, most were able to complete it. For some, it was their longest swim ever – a fantastic achievement, given that swimming for over 10 hours requires good preparation and a positive mind. The fastest Vladswimmer was Emily Miers who, for was last 3 months was coached by Rob Fernandes and DRLC. She improved her swim time from 2015 by 40min. the Second finished Justin Hanby was the second fastest Vladswim in 5:41 and Scott Miers, Emily's Dad, came in 3rd in 5:51.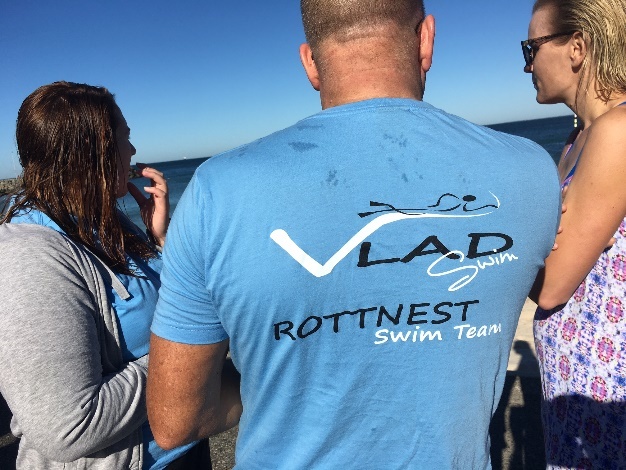 I'd like to acknowledge the following swimmers who took part in the race for the first time: Kim Louw, Nicola Brown, Rinetta Duncombe, Laura Gallop, Kate Richman, Jacob Allan, Jeremy Povey, Jeff Sanders, John Macleay, Paul Whittingham, Peter Schults, Stuart Milson. There were also several Vladswimmers competing again: Rachelle Silver, Lucille Orro, Rachael Elkam Cae Tolman and Anthony Schwager, Anna Doubell. This year Justin completed his 6th Rottnest swim, making him Vladswim King of the Rottnest swim. Great job Justin and congratulations to everyone who finished this tough Rottnest swim 2017.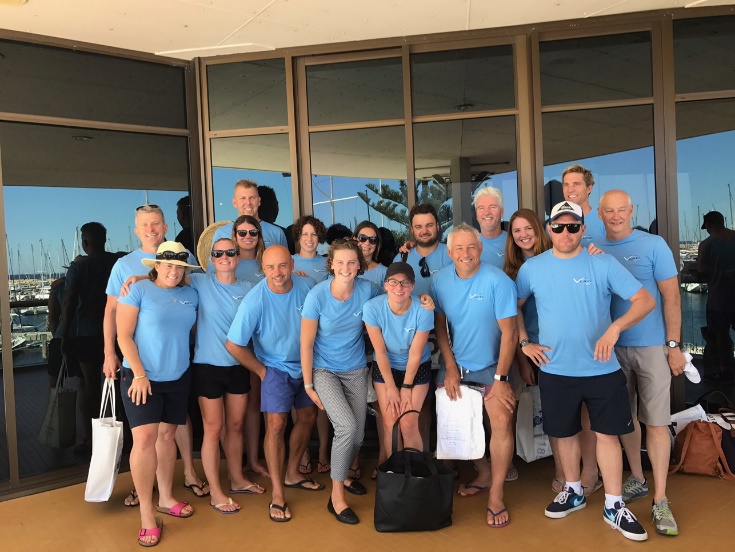 We also had some swimmers who were unable to complete the swim. Pauline English was really prepared for the event but unfortunately, she developed serious breathing problems at the half way mark due to salt water entering her lungs. Pauline had to spend the night in hospital but luckily she is now fine and was even back in the pool only a week after Rottnest. Brendan also experienced shallow breathing problems related to his asthma which prevented him finishing the swim. And Eli who was swimming butterfly had to pull out at the 18km mark. But what a fantastic result to have swum butterfly for all that distance! I believe that next year he will be celebrating a 20km butterfly swim on the island. I would like to congratulated to all swimmers attending Rottnest swim.
Great job guys!